I've been thinking lately about how the patterns I use in my work have developed over the last five years or so.
I started off adding typography to the painted, textured backgrounds on my canvas paintings. The words were written in Indian ink using a very fine point brush. The ink worked much better than paint because it had a stronger pigment and its semi-liquid form went on over the painted surface really well.
The only problem with using a brush to apply the pattern is that it was hard to keep the thickness of the line consistent over the whole painting. I experimented with white Indian ink over a dark background, and often added extra lines and patterns extending out from the shape of the letters.
I moved on to using silhouettes of birds and animals on painted backgrounds. I became interested in how the patterns could interact with the painting. The patterns started to represent smell or sound in a more abstract way.
From here I started doing more work straight on plywood, enjoying the way the wood grain interacts with the pattern. I began using ink pens to draw the pattern to get a more consistent line.
In 2014 I started making prints. It all started with a drawing on paper using a silhouette of New Zealand. I took the drawing to a screenprinting company in Shelly Bay, Artisan Screenprints, who transferred the drawing on to a screen and printed the first batch of Aotearoa prints.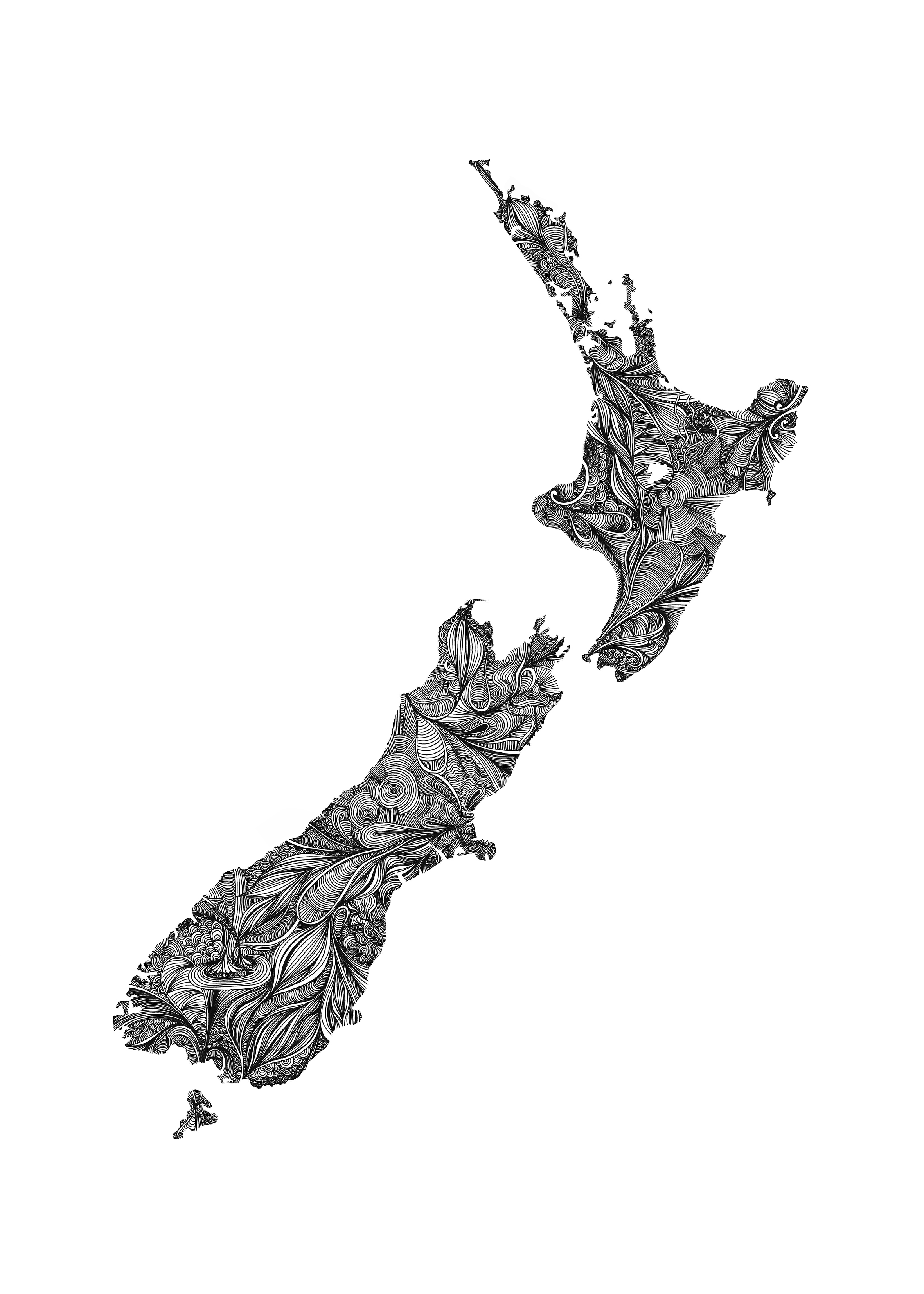 Since that first print I have produced a series of bird and animal prints on paper, trying to push the detail aspect of the pattern as far as I can. Using a fine ink pen and drawing on paper means it is much easier to get finer and more detailed lines. The splash of colour also adds to the contrast of line and white paper.
My latest commission has taken the pattern to the extreme, with a plywood frame of 150 x 80cm. I have never drawn this much pattern on one design, and it certainly took lots of hours to complete! With this work I was aware of the direction of the patterns going down the bird, and I used some patterns to pick out the realistic aspects of the bird's face and beak.